Even as Nigeria's central bank stepped in to limit the naira's devaluation on the first day of trading without a peg, the market is signaling there's plenty of room for more declines.
The naira tumbled 29 percent to 280.5 against the dollar at 5:07 p.m. in Lagos, the commercial capital. The currency hovered around the 260 level as the Central Bank of Nigeria was said to sell dollars to help clear pent-up demand for foreign currency. Traders are betting the naira will further depreciate more than 10 percent in three months, forward contracts show.
"They can't do this for months," said Jonas David, a Zurich-based emerging-markets analyst at UBS Wealth Management. "'We could see further pressure on naira to levels close to 300."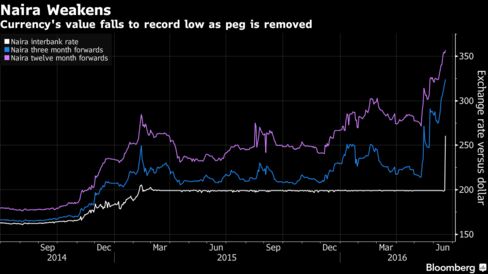 The central bank started auctioning dollars in the spot and forwards markets around midday to try to clear a backlog of orders for hard currency, according to a person with knowledge of the transactions who asked not to be identified as the information isn't public. While the size of the auction wasn't disclosed, the backlog is around $3 billion to $4 billion, according to analysts at Lagos-based investment bank Chapel Hill Securities Ltd.
Forwards markets suggest the depreciation has much further to go. Three-month naira non-deliverable forward contracts rose 0.6 percent to 322 against the dollar, while one-year contracts climbed 0.9 percent to 357, heading for a record close.
The central bank didn't immediately respond to requests for comment. Governor Godwin Emefiele said when he announced the new system on June 15 that the monetary authority would intervene when necessary even though it was allowing the exchange rate to be "market-driven."
There may be "higher volatility until the market becomes more functional," Samir Gadio, head of Africa strategy at Standard Chartered Bank Ltd. in London, said in an e-mailed response to questions. "Foreign investors will need to be convinced that the new foreign-exchange platform is sustainable before they resume the purchase of local assets."
Few Trades
The Central Bank of Nigeria used capital controls to stem an outflow of dollars after the naira crashed to a then-record in February 2015, effectively fixing the currency at 197-199 per dollar, as oil prices slumped. While stabilizing the naira, the controls deterred foreign investors and starved manufacturers of foreign currency needed to pay for raw materials and equipment. Nigeria's gross domestic product contracted in the three months through March for the first time since 2004 and inflation accelerated to an almost six-year high of 15.6 percent in May.
Few trades went through in the hour or so after the market opened, making it hard to tell what the naira's fair value is, according to Craig Thompson of Nyon, Switzerland-based brokerage Continental Capital Partners SA. The central bank seems to want to stabilize the currency at around 250-260 per dollar and most local banks will be nervous about pushing through trades much weaker than that, he said."It will move to 300 at some stage," Thompson said by phone. "There's all that pent-up demand. But you don't want to be seen by the central bank to be pushing it lower. It won't sit well. There's a bit of moral suasion to keep it here. But as the client orders come through, the banks will have to pay up to supply their clients."
As published by Bloomberg